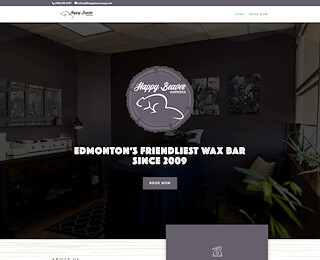 If you are in the market for hair removal services, then we have just the Brazilian wax company for you. Artistry Esthetics has been providing body waxing for men and Brazilian waxing for women since 2005. With thousands of happy customers and millions of hairs removed, our team of licensed Brazilian wax professionals are ready and willing to tackle any body part on any figure.
If you are a big beautiful woman looking for bikini wax services where you can feel comfortable during your waxing treatment session, then our wax company is perfect. With ratings on Yelp and Google for being friendly and putting customers at ease, you can be assured that you will receive the same great service regardless of your body type. Kelsey, Meg and Jesse are all open minded and non-judgmental and ready to give your lovely body the waxing services that it needs regardless of shape or size. Book online or call 780-340-2787 today to get your Brazilian wax service.
If you are a man looking for Brazilian wax Edmonton, then Artistry Esthetics is just the wax company for you. You can leave your underwear on, or take it off, whatever feels better for you. Don't worry our team of wax for men professionals have seen it all. It's unlikely that yours are any different than the thousands of other men that our team has waxed professionally. Book online or call 780-340-2787 to book your Brazilian wax service today.
Our Brazilian wax services is perfect for bikini lines, tushy and bottom waxing, leg waxing, inner thigh wax and labia and pelvic area too. We can help with any of your Brazilian waxing needs with a friendly professional service affordable waxing pricing. Call today at 780-340-2787 or book online when you need those unsightly hairs down there waxed into oblivion.
Brazilian wax Edmonton done professionally with low cost and efficiency by Artistry Esthetics. Call or book online today.
Brazilian Wax Edmonton